Lou'ai
This is Lou'ai. He is 14-years-old and when he came to Safe Spaces Center, he did not know how to read or write. He did not show motivation to learn and demonstrated violent behavior. Through our programming, Lou'ai developed a desire to learn the alphabet, and took a step towards literacy. Now, he participates in the class and is more interested recreational activities with other students. He is headed towards healing and we are with him each step of the way. Keep it up, Lou'ai! We believe in you!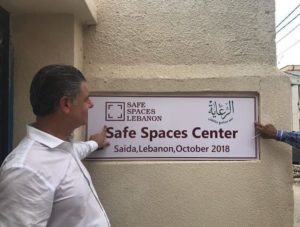 Safe Spaces Lebanon is a multi-faith non-profit that leverages the resources of faith communities and individuals in the US to empower refugees and others in need who are experiencing the devastating effects of war.
The genesis of Safe Spaces came from a trip that a group of United Methodists from North Texas took to Lebanon in February 2017, during which we toured sites in Beirut, Saida, Sur, al Marjj, and Zahle. After visiting a number of humanitarian organizations at work, and the people who are being helped by these organizations, the group was especially struck by the emotional trauma which women and children refugees are experiencing.

Safe Spaces Lebanon's mission is to create safe spaces to engage, empower, and educate refugees and support host communities.
We will empower women and children affected by the war in Syria to rediscover hope for their futures by creating meaningful opportunities for them to realize their potential and envision a future of promise.
Our dream is for the Safe Spaces Center to be a replicable model that will begin in Saida, working alongside the municipality and school system and then expanding into other regions of Lebanon.
In October 2018, Safe Spaces Lebanon opened the Safe Spaces Center on the outskirts of Saida. The center operates in partnership with Al Reaaya, a local NGO providing relief and developmental support to orphans and widows affected by the war.
Thanks to many generous donors, renovations and first year operations have been fully funded. Safe Spaces Lebanon continues to raise funds to ensure continued success of the school and fund other programs that meet our mission.